Eight years ago, Brightgreen launched Tru-Colour®. It was (and still is) the world's highest light quality. Think of it as the koala-shaped Pringle of light quality. Unforgettable. And when we combined Tru-Colour® with Brightgreen's superior componentry and expert tinkering, the Plus Collection was born.
The superstar of the downlight world.
Aiming to elevate Tru-Colour® and the Plus Collection, we did what all great innovators do. We tore up the old playbook and started from scratch—meticulously reimagining each component, chip, and software in Melbourne.
For us, these downlights had to be the Usain Bolts, Sam Kerrs, and Michael Jordans of the LED world. Getting autographs. Popping bubbly. Adorning the walls of every aspiring lighting enthusiast. (And not just forcibly placed on our kids' bedroom walls.)
And after three and half years of trying to one-up ourselves, we've clocked perfect, world-first scores in light quality.
Enter: Tru-Colour® 4.0 and the Plus 4.0 Downlights.
Topping the charts in quality, smarts, sustainability, and, oh, everything else—it might make you want to smooch your screen. But don't. That's weird. Instead, dig into this short write-up as we share all the juicy details of these new downlights.
Too many words? Hit fast-forward, and meet the Plus 4.0 Collection now.
The Facts
Unparalleled Light Quality: Tru-Colour® 4 takes the world's highest light quality to an unprecedented level achieving world-first, perfect '100/100' scores on crucial measures of colour accuracy (TM30 Rg) and natural materials (CRI

R9

).
Comprehensive Design: The Plus 4.0 Collection is the most advanced

downlight

system of its kind in the industry, with a variety of beams, styles, outputs, CCTs, and control types, all carefully designed to bring every space, object, material, and person to life.
Advanced Lens Technology: With a redesigned,

reflector

-free optical grade polymer lens, the collection eliminates light degradation and colour shift issues, ensuring consistent illumination.
Designed in Melbourne: Every component has been meticulously redesigned in our Melbourne studio, merging aesthetics and performance to achieve excellence in lighting.
Versatility & Customisation: The Plus 4.0 Collection is not just about illumination; it's about expression. It's tailored to fit every creative vision with over 10,000 custom LED combinations and many styles,

fascias

, finishes, and beam angles.
Award-winning: Recognised globally for its innovation and design, the collection has garnered top honours at design awards in Melbourne, New York, London, and more.
Bring Your Interiors To Life. La Crème De La Crème. It's #1 In Light Quality.
Tru-Colour® 4 takes the world's highest light quality to an unprecedented level. (Sorta like giving a cheetah an espresso shot, but ten times better.)
We didn't just snag gold but smashed the lighting Olympics (if that was a thing) with world-first, perfect '100/100' scores on crucial measures of colour accuracy (TM30 Rg) and natural materials (CRI R9). Importantly, these perfect scores are not just numbers from a lab test—they reflect the quality you'll experience in your spaces (which can't be said about other manufacturers).
Step aside, Carl Zeiss.
The Plus 4.0 Downlights also have redesigned, advanced, optical grade polymer lenses—ditching reflectors—to banish light degradation and colour shift issues found in traditional designs. These little beauties offer unmatched, lossless light quality that leaves even high-quality glass optics eating dust. Your move, Carl.
But don't just take our word for it. We've outperformed the natural sunlight (in Melbourne), scoring higher on CRI R9. And for our lighting nerds, here's the nitty gritty:
100 TM30 Rg
100 CRI

R9

(We tested the Melbourne sun. It was 98 CRI

R9

. Did we just beat the sun?)
100% optical-grade,

reflector

-free polymer lens for lossless light quality
100 colours CES14, CES68, CES69, and CES72
0.01% hue shift on critical hue angles 2, 11, and 12
More Handsome Than Chris Hemsworth. It's #1 For Looks. It's #1 For Versatility.
Alright, alright, who are we kidding? Hemsworth's got the looks. But our revamped downlights are giving Thor a run for his money.
After a heart-to-heart with architects this year, we realised one truth—looks matter—a heck of a lot. So, we took our downlights back to the drawing board and gave them a makeover you'd swoon over. Here are all the drool-worthy aesthetics of the next generation in lighting excellence.
(Seriously, keep a bib handy.)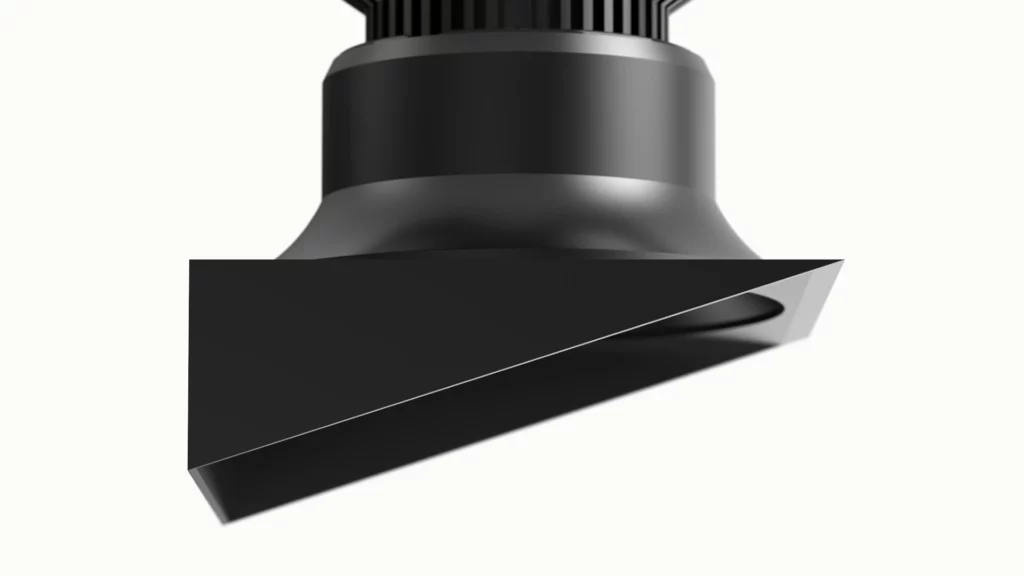 Unleash Your Creativity. Over 10,000 Custom LED Combinations at Your Fingertips.
Style the light. Shape the light. Direct the light. Colour the light. Unleash your creativity tenfold.
The Plus 4.0 Collection is designed to let your creativity run wild—like a zebra, in Madagascar, with its wind in its mane. Super-duper wild.
11 Timeless Styles: From soft, surface and flat to trimless, slim, and box, there's a shape and style to match your space. All are designed to complement your architectural geometry and interior styling while maintaining a minimal visual footprint. They create coordinated, controlled beam effects that accentuate your interior's design, finishes, and furnishings.
100s of Custom Fascia Colours: Get all Picasso up in your living room. Painted to order in Australia. Matched to your interiors. Complement your colour schemes.
10 Beam Angles. 100% Omni-Gimballing: Take control of your light beams. Direct the light and move it all about with multiple beam options, including

wall washer

, elliptical, low

glare

, batwing, and more.
6 CCTs (100s of CCT settings): Whatever mood you're trying to create—cosy evenings or disco inferno— there's a

colour temperature

for it: 2800, 3000, 4000, 6000, NS/3100-1800, DS/2800-6000.
100% Minimal. Plus Puts the 'Ooh' in Smooth.
Experience eyegasmic perfection. It's a thing. 100% minimal with 10% thinner edges, 10% wider optics, and 100% clear optics. It's the supermodel of the LED world.
There's a clear and sparklingly reflective edge-to-edge facet-free optical grade polymer lens for a sleek, sharp aesthetic. (Translation: Oooooh, pretty.)
Plus, there are ultra-thin-edged or trimless lips with paint-matched tone and reflectiveness. So it's not just a downlight. It's an extension of your architecture. (Translation: Ermagherd, sooooo pretty.)
It's the Beyoncé of LED Lighting. The #1 Awarded Downlight.
We've scooped up so many awards; we're running out of shelf space.
Melbourne Design Awards? Top spot. New York Design Awards? First place. London Design Awards? Yep, we rocked there too.
From Melbourne to London, we're the talk of the town. Here are some more shiny award badges for you:
1st prize Melbourne Design Awards winner,
1 Good Design award,
1 Australian Design award,
1st prize Architecture prize
1st prize United Nations of Australia
1 Premiers Design award
1st prize New York Design Awards
1st prize Sydney Design Awards
#1 London Design Awards
Bring Every Person, Object, Material and Space To Life.
By now, you know the power of Tru-Colour® 4. We'll say it once, twice, even a million times—it's eyegasmic. And our Plus 4.0 Downlights lead the charge. They won't just light your spaces; they'll transform them.
Are you ready to give those tired spaces and last-century bulbs an upgrade? Ping us at 1300 672 499 or reach out and let us bring your vision to life.