Designed in Australia for Australian weather.
These outdoor LED lights are waterproof (up to IP67), rust resistant (marine grade), tough (up to IK10), fire rated, and backed with up to a 10-year warranty.
Can you say apocalypse ready?
These exterior lights aren't all muscle though.
Besides a minimalist style that makes them pretty to look at, they've got some brains in there too and are smart light compatible.
DALI, Phase, Casambi… Hook them up to whichever system you use and get automated.
You can light up your world (or at least two things at once) with multi-gimballed beams.
Each bank of lights is adjustable, so you can wash a wall with one bank and spotlight a tree with the other.
It's light every which way, but it's targeted.
SMALL LIGHT. GIANT LEAP. MEET THE HANDRAIL LIGHTS WITH SMALL MAN SYNDROME—LITTLE FELLA, BIG IMPACT.
SMOOTHLY SLIP THESE POCKET-SIZED LED RAIL LIGHTS INTO YOUR STEEL HANDRAILS.
USE THE IP-RATED RASCALS IN HANDRAILS AT BRIDGES, PARKS, OUTDOOR AREAS… HECK, STRAP THEM TO YOUR KIDS. (HMM…MAYBE NOT.)
Get spy thriller with it and outline your door frames and window sills with line lights.
The clean lines of these lights cut through the night (and not your limbs) to impressive effect.
Take it step further and bring your corridors to funky town.
Wash your porch (or maybe something a bit bigger) with colour.
RGB flood lights change colours to create just the right effect for your space.
Think of the Red Light District, but just, ah, the red colour part of it. That's the effect you can create!
No one said an outdoorsman couldn't be stylish. And no, we're not talking plaid.
Outdoor pendant lights add that extra bit of class to your high-end projects.
Perfect for an outdoor dining space at a restaurant or your house.
Unlike the very pretty raisin you'd become if you sat out in the sun day after day, these outdoor LED strip lights are UV stabilised.
That means they won't turn yellow (or wrinkly) in the sun.
They're also flexible to suit whatever design you've got going.
UNLIKE THE BOLLARDS THAT STOP GRAMPS FROM DRIVING INTO YOUR LIVING ROOM, THESE BOLLARD LIGHTS MAY HELP LIGHT THE PATH TOWARDS IT.
CHOOSE BETWEEN IP65-RATED BOLLARD OPTIONS FOR 360° DIFFUSE ILLUMINATION OR DIRECTIONAL LIGHTING AROUND YOUR GARDEN.
SKIP THE HEIGHT DISCRIMINATION WITH MULTIPLE SIZES, TOO.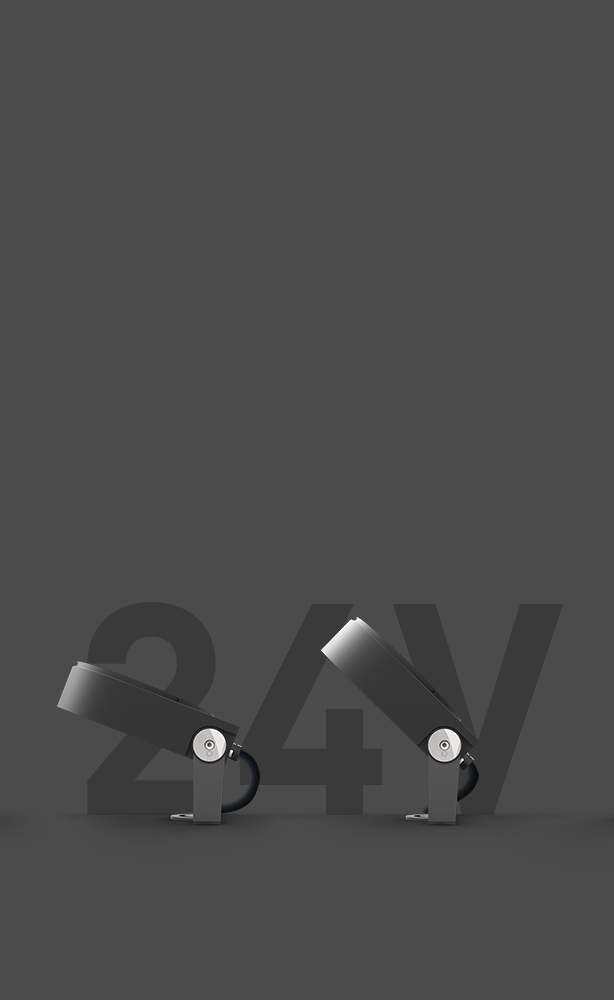 24 volts. That's it. And that's all you need.
Besides avoiding the shock and awe factor when you get up to a little aimless digging…
These low voltage outdoor lights are easily powered and maintained through one central driver.
Not that you have mob connections, but with these outdoor lights, what's buried stays buried.
Multi-mounting boxes allow for easy outdoor wall light placement, but also, you know, they can go in the ground (or cement) and stay there.
No washed up surprises.
Still, ah, choosing the right path is up to you [read in a Yoda voice], but lighting the path is something these walkway lights can help with.
Use surface and/or in-ground LED pathway lights to find your way.
All ground lights can have a spike accessory attached.