OH, SNAP. NEXT-GEN TRU-COLOUR®
TRACK LIGHTS FOR EVER-EVOLVING
INTERIORS (AND INDECISIVE
DECORATORS.)
LEGO-LIKE, DIY ADJUSTABILITY. ADD,
REMOVE, MOVE, AND REFOCUS THESE
CEILING LIGHTS IN A SNAP.
PLUG AND PLAY TO EASILY BACKTRACK
ON LIGHTING LAYOUTS. YEP, IT'S TRACK
LIGHTING FOR COMMITMENT-PHOBES.
KITCHEN TRACK LIGHTS TO MAKE YOUR
FOOD LOOK DELICIOUS. IF THAT'S FALSE
ADVERTISING, THEN IT'S YOUR
BUSINESS.
PLUS PICTURE LIGHTS FOR VAN-GOGH
WORTHY GALLERY LIGHTING. MAKE
YOUR STICK FIGURES SHINE LIKE A
PICASSO WITH TRU-COLOUR®.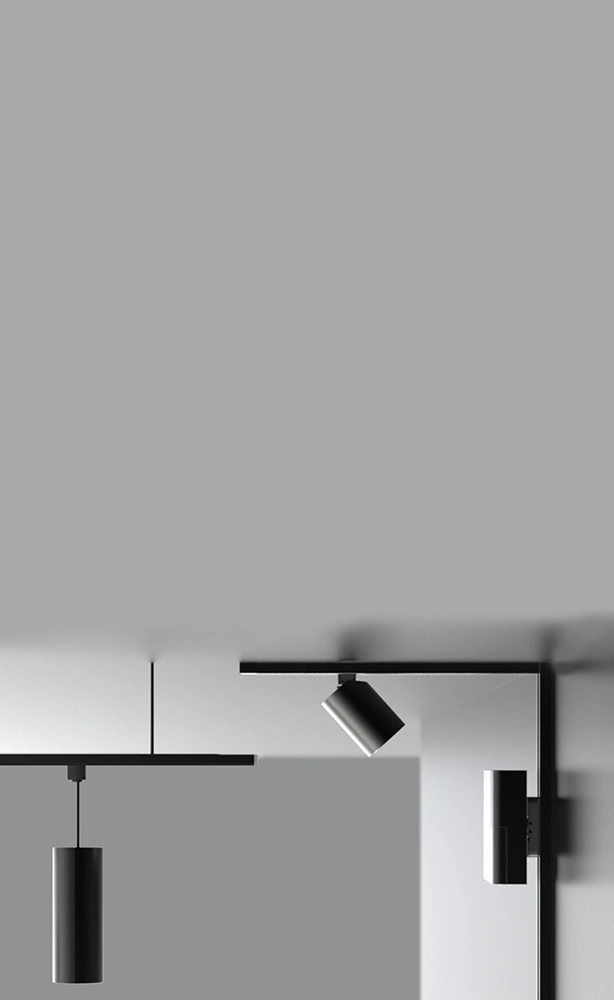 MORE OPTIONS THAN A BUFFET TABLE:
SURFACE, RECESSED, VERTICAL, AND
SUSPENDED TRACK LIGHTS
PAIRED WITH OUR TASTY TRU-
COLOUR® FOR DROOL-WORTHY
WORLD'S HIGHEST LIGHT QUALITY.
NOW THAT'S TRACK LIGHTING.
VERSATILE. ADAPTABLE. DYNAMIC.
NIMBLE. LED TRACK LIGHTING. (AND
NOT JUST QUALITIES TO LIE ABOUT
ON YOUR LINKEDIN PROFILE.)
WALL WASH WITH RECESSED LINEAR
DOWNLIGHTS. AND GET TASK LIGHTING
WITH PENCIL-THIN PENDANT LIGHTS.
DIRECT YOUR BEAMS WITH
360°/90° GIMBAL PICTURE LIGHTS.
OR TAKE THE INDIRECT APPROACH
WITH AMBIENT ORB LIGHTS.
SEE THE LIGHT AND SHAPE THE LIGHT.
ZERO IN ON THESE ZOOMABLE AND BEAM
SHAPING TRACK LIGHTING
OPTIONS.
CEILING LIGHTS THAT LIKE TO MOVE IT,
MOVE IT. ADD, MOVE, REMOVE, AND
GIMBAL TO YOUR HEART'S CONTENT.
TOO MANY FEATURES TO KEEP TRACK
OF. INTEGRATED DIMMABLE DRIVERS.
NO NEED TO COMPLICATE A GOOD THING.
KEEP YOUR ONE-TRACK MIND OR
GO WILD WITH A 3-CIRCUIT TRACK
EUTRACK AND H TRACK OPTIONS.
LOW VOLTAGE TRACK TO SHUFFLE
SPOTS AND SPOTLIGHTS AS QUICK N'
EASY AS CHANGING UNDIES. (…IF
YOU'RE INTO HYGIENE.)
20% LEANER THAN TRADITIONAL TRACK
LIGHTS. THESE SLEEK SUPERSTARS
DISSOLVE INTO YOUR ARCHITECTURE.
SHIFT IT. SNAP IT. LIGHT IT.
MADE TO BE PLAYED WITH. IT'S
YOUR NEW SUPERPOWER.
LED SPOTLIGHTS TO HIT THE…SPOT?
SKIP THE GREY AREA. WHITE AND
BLACK TRACK LIGHTS.
MINIMALIST MODERN TRACK LIGHTING.
BECAUSE LESS IS MORE. EXCEPT WHEN,
WELL, YOU KNOW WHEN.
STAY ON TRACK WITH THIS TRIPLE
THREAT. THIS TRIO OF TRACK LIGHTS
ARE ALL PODIUM FINISHERS.
TO TRU-COLOUR®, OR NOT TO TRU-
COLOUR®, THAT IS THE REAL QUESTION.
CHOOSE YOUR CHAMP. (HINT:
THEY'RE ALL CHAMPS.)