THE WELLNESS NUMBERS
ARE IN, AND BUILDING
DESIGN IS A WHOPPER.
Look, we know we're known for our
lights, but we decided to shine a little
light on wellness. And white lights are
part of healthy building design, there
are other players in the wellness game.
WE'RE NOT PULLING
THESE NUMBERS
OUT OF A HAT.
Universities around the globe have
come back with the same result:
building health matters.
BUT LIKE A MOUSE IN
A MAZE SEEKING ITS CHEESE,
WELLNESS HAS BEEN
A FRUSTRATING FRUIT.
The research is time consuming,
different pieces of tech don't
mess, and the whole thing
just hasn't been viable.
WE HELP YOU
REWRITE THAT DRAMA.
You tell us your wellness goals and target
budget, and we recommend the best products
for the gain. Not to mention our fun simulator that
pulls everything together. Wellness isn't a solo
sport, but we're here for that team effort.
TWO WORDS: COST
EFFECTIVE. (SHUDDERS)
Yeah, we thought you'd like that dirty
talk.We determine the most cost-effective
way for you to ge t the best wellness outcomes,
which leads to your project getting certified.
But like, in a good way.
OUR TECH PULLS IT
ALL TOGETHER FOR YOU.
Smart technology plus about 50 pounds of
wellness research, and voilà, a complete
wellness system. A web of sensors, displays,
smart lights, and widgets.
AND ALL ROADS
LEAD TO…THE HUB.
This piece of tech is the brains
of the operation-all of the software
lives here. And that software? It's
everlearning. Forever optimising. This
wellness system just keeps growing.
LIKE THE SWEAT, RINSE,
REPEAT CYCLE THAT MADE
ARNOLD GLISTEN
This system just keeps improving. Around and around
it goes. Learning… and flexing.
ENVIRONMENTAL SENSORS.
BEHAVIOURAL SENSORS.
ENERGY SENSORS.
MOOD SENSORS.
No, wait, nix that last one. Unless mood rings are
still a thing? We measure it all.
THEN, WE TAKE ALL THAT
DATA, AND WE SHOVE
IT IN YOUR FACE.
But, like a nice shove. More of a tap, maybe? On-
screen charts and notifications, emails, and SMS.
WE'RE NOT LOOKING TO
TAKE OVER THE WORLD
(THAT'S NEXT YEAR).
So we designed our software using open
protocols. You can easily integrate our system
with devices you're already using. It's fully
customisable to your setup.
THIS SYSTEM CLEARLY HAS
NO CONCEPT OF STUDENT DEBT, AS IT'S EVER LEARNING
Unlike other rules-based systems, it's responsive to occupants, the weather, cost of energy, and anything else we can measure.
AIR
Our sensors monitor not only indoor but outdoor
air quality to notify occupants of changes. Air filters
safeguard against airborne nasties, including fine
particles (bushfire smoke) and volatile organic
compounds (pollutants). Additionally, UV-C
filtration can be installed to destroy airborne
pathogens. Sensors also monitor both CO2 levels
and occupancy to increase ventilation as needed.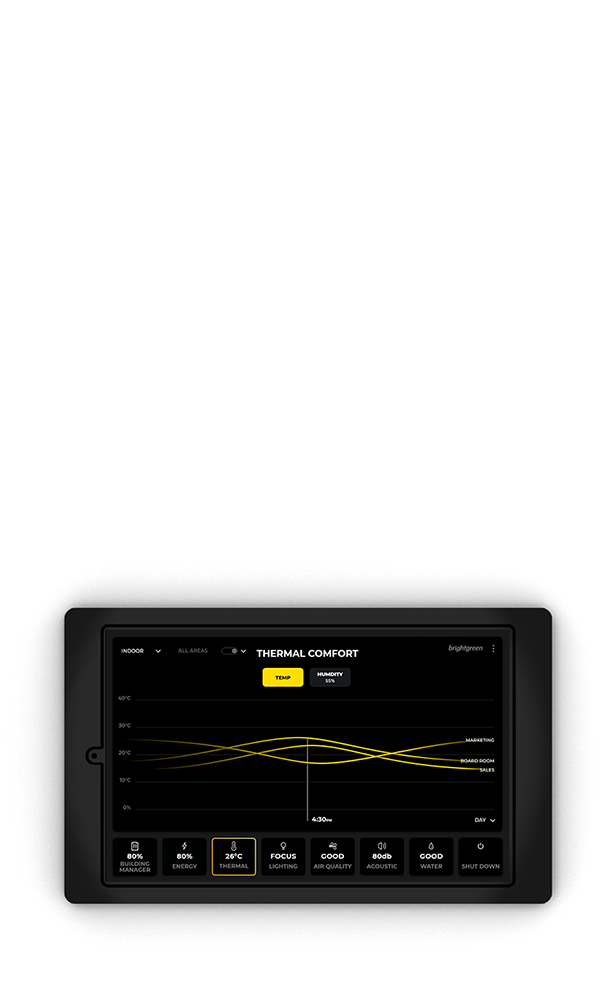 THERMAL COMFORT
Heat and humidity monitors ensure that
proper temperatures are maintained to not
only increase productivity and comfort, but to
keep you awake. As Goldilocks knows,
there's a temperature that's just right.
LIGHT
Our low-glare smart lights tick all the
boxes with seasonal presets, colour
canopies, flicker-free drivers, and
circadian lighting settings.
Can you see the light yet?
WATER
Inline sensors keep your water supply,
well,in line. These sensors provide real-time
coverage of turbidity, coliforms, and chloramines.
Basically ensuring that the struggle for
8 glasses a day isn't a wasted effort.
NOURISHMENT
Educational signage through system
display sand on-screen notifications remind
you to make the healthy food choice. And perhaps,
notify you when fresh doughnuts, er,
vegetables are delivered.
MOVEMENT
Activity monitors not only pick up
whether or not you're getting enough steps
in each day, but they can monitor if proper social
distancing measures are being followed and
provide reports on space utilization.
SOUND
We're not talking dog whistles
(or are we?), but there are two levels
of sound, and our sensors monitor
both to help you keep the acoustics
to a pleasing auditory level.
MATERIALS
You found all the right materials for the
visual appeal, but our air quality sensors ensure
that an aesthetic gain isn't a respiratory fail. Pollution
sources can often be found inside a workplace,
and we're not talking hair spray. Or not strictly so.
MIND
QR codes and CMS integration make booking
a timeslot with your company therapist or in the
meditation room easy as pie. Just scan the code,
and the slot will book and your calendar will
update. You'll be saying "om" before you know it.
COMMUNITY
QR codes and CMS integration make
planning group activities easy as well. It's a
fully automated process that will add an event to your
calendar after scanning the event code, which
might be for a walk, a coffee, or even bocce.
INNOVATION
This system makes it easy for you to hit
the minimum for certification, but it also
makes it easy for you to go far beyond
that. Your interest in wellness alone labels
you as an overachiever, so let's see what
big changes you can make happen.
GETTING YOUR CAKE
AND EATING IT TOO
Not only does this system hit the wellness goals, but
it's good for the environment and the pocket as well.
Its self-learning technology saves up to 60% in energy
costs, and the system runs at less than 10% of a
standard building automation system. This a cake
that pays for itself in three years.